NHPCO: MDP Foundational Course
February 6
@
8:00 am
–
March 20
@
5:00 pm
EST
Module Description
The Foundational Course is the first step in a multi-level developmental program for new and aspiring hospice managers. Starting with the enduring and important values that uphold the provision of hospice and palliative care, the course provides information about hospice regulations and standards, includes a leadership assessment and model to help managers determine employee's needs, helps develop critical thinking skills in the hospice manager, and teaches strategies to employ during interviewing, coaching, feedback, and evaluation processes.
Participants will watch pre-recorded content videos, complete reading materials, and engage in live online video discussions.
Please note that the number of credits and live class time are subject to change.
Live Class: Tuesdays starting February 6 ending March 20 from 12:00 – 1:30 p.m. ET
Module Objectives
After completing this module, participants will be able to:
Describe a values-based approach to management and leadership
Determine the hospice manager's role in compliance and accountability
Assess individual leadership styles and adaptability
Discuss the relationship between your "style" as a manager and problem solving and outcomes
Define, explain, and identify keys to the effective use of behavioral interviewing, feedback, coaching and performance appraisal
Module Structure
The module will be instructor-facilitated and is conducted online over a period of six weeks. During this time, you will read online articles, watch videos, complete assignments, develop solutions to case studies, take part in and participate in a weekly, live online session. You can expect to spend 2 – 4 hours per week in these activities. Participants will determine their own schedules for completing the on-demand course work, which is a perfect arrangement for busy hospice managers! Completion of the module does require, however, that you complete all pre-recorded content, participate in weekly assignments and in the weekly, live discussion.
Live Class: Tuesdays from 12:00 – 1:30 p.m. ET
Orientation – February 7
Week 1: Values-Based Hospice Leadership – February 14
Week 2: Problem Solving and Decision Making – February 21
Week 3: Applying the Situational Leadership Model – February 28
Week 4: Interviewing, Coaching, Feedback, and Evaluation Skills – March 7
Week 5: Regulations and Standards for Hospice Managers – March 14
Module Fees
The module fee is $599 for members of NHPCO and $699 for non-members.
Late Registration Information
Please note: Due to administrative constraints, if you register after the course begins, there is a late fee of $35.
Registration Cancellation Policy
All cancellation requests must be submitted in writing to conferences@nhpco.org. A A$25 processing fee will apply to all cancellations. Cancellations made on the day the module starts or afterward are not eligible for a refund.
Faculty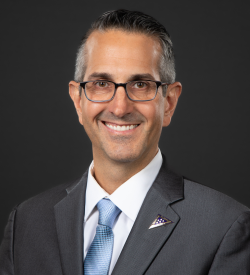 Joel Fry, MSW, LISW
Joel Fry, MSW, LISW received his Bachelor of Arts from Simpson College and his Master of Social Work and Aging Studies Certificate from the University of Iowa School of Social Work in Iowa City. While at the University he was awarded the American Cancer Society Training Grant in Clinical Oncology and this is where he began his therapy work with cancer patients.
Joel was a social worker with Hospice of Central Iowa in West Des Moines, Iowa from June of 1999 until October 2001. He provided a wide range of services to patients and families including grief and loss counseling and emotional and spiritual support at the end of life. In October of 2001 Joel was named the Metro Team Director for Hospice of Central Iowa and joined the leadership team. As the director he supervised nearly 30 clinicians and provided leadership for a team with an average daily census of nearly 100 patients. Joel served as the Metro Team Director until May of 2006. Taking his compassion for the highest quality end of life care, Joel joined Weatherbee Resources in April of 2006. Also, in 2006 Joel joined the National Hospice and Palliative Care Association's team of faculty for their Manager Development Program. He teaches this program throughout the United States.
In November of 2005 Joel and his wife Heather founded Team Restoration Ministries. He is the President of Team Restoration Ministries; a ministry designed to strengthen marriages in Central and Southern Iowa. Team Restoration Ministries partners with local churches to provide therapy services, conferences, and teaching on marriage and family related topics.
Joel teaches and lectures throughout the United States on a variety of end of life and marriage topics. Joel has served as part-time faculty at Simpson College, where he taught a variety of social science courses. He has also served as adjunct faculty at The University of Iowa School of Social Work where he taught end of life curriculum to graduate students.
Joel was first elected to the Iowa House of Representative in 2010 and continues to serve the State of Iowa as a State Representative. He has served as Vice Chair of the Resource Committee. Assistant Majority Leader, House Majority Whip, Chairman of the Human Resources Committee and is currently chair of the Health and Human Services Budget. He is currently a member of the Education Committee, Public Safety Committee, Human Resources Committee, Health and Human Services Budget Subcommittee and the Appropriations Committee. He has worked extensively on mental health redesign and is seen in his caucus as a resource on numerous health and human service related issues. He is blessed to represent the people from the great state of Iowa and most specifically those from South Central Iowa.
Most importantly Joel married his college sweetheart in 2000 and together they have 9 children.
CE/CME Credit
Continuing education credit is available for nurses, physicians and healthcare professionals who complete this module and pay required fees (see Module Fees) for continuing education.

Nurse: NHPCO is accredited as a provider of nursing continuing professional development by the American Nurses Credentialing Center's Commission on Accreditation.
NHPCO designates this live activity for a maximum of 14 contact hours. Nurses should only claim the contact hours commensurate with the extent of their participation in the activity.

Physician: NHPCO is accredited by the Accreditation Council for Continuing Medical Education to provide continuing medical education for physicians.
NHPCO designates this live activity for a maximum of 14 AMA PRA Category 1 Credits™. Physicians should claim only the credit commensurate with the extent of their participation in the activity.
Certificate of Participation for Non-physician Healthcare Professionals: For participants* whose disciplines are other than nurse and physician, you may request a Certificate of Participation for Non-physician Healthcare Professionals to submit to your accrediting bodies/licensing boards for continuing education credit. This certificate will indicate the sessions attended that were certified for physician credit (AMA PRA Category 1 Credit(s) TM). It is the responsibility of participants to submit the certificates to their accrediting bodies/licensing boards for approval. Unfortunately, NHPCO cannot guarantee its acceptance. To receive this certificate, you must complete all CE/CME requirements and indicate your desire to receive this certificate on the evaluation form.
*including bereavement professionals, counselors, physician assistants, quality professionals, social workers, spiritual care givers, etc.
Register Here
Organizer
NHPCO Education Team
conferences@nhpco.org